Meet Rosebud, the Santa who sits on my lap. Rosie B, as we affectionately call her, came into our lives two holiday seasons ago. We stopped into the local pet shop a few days after Christmas, and immediately fell in love with her. Well, the kids and I did anyway. Their dad was a tougher sell. Strangely enough, he is now the one most attached to RB and proudly walks her through the neighborhood in her pink argyle sweater. Yes, it's true we're those people: We dress our dog. Disclaimer: She only wears holiday-specific or cold weather attire. That makes it OK, right?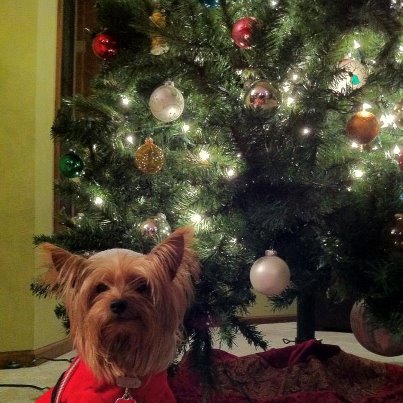 Rosebud would love to know what you want for Christmas. She doesn't care if you've been naughty or nice; she'll sit on your lap either way.
I'm linking up with the awesome GFunkified and Mamamash again this week for iPPP. Click on the link below to join us for some iPhone photo phun.