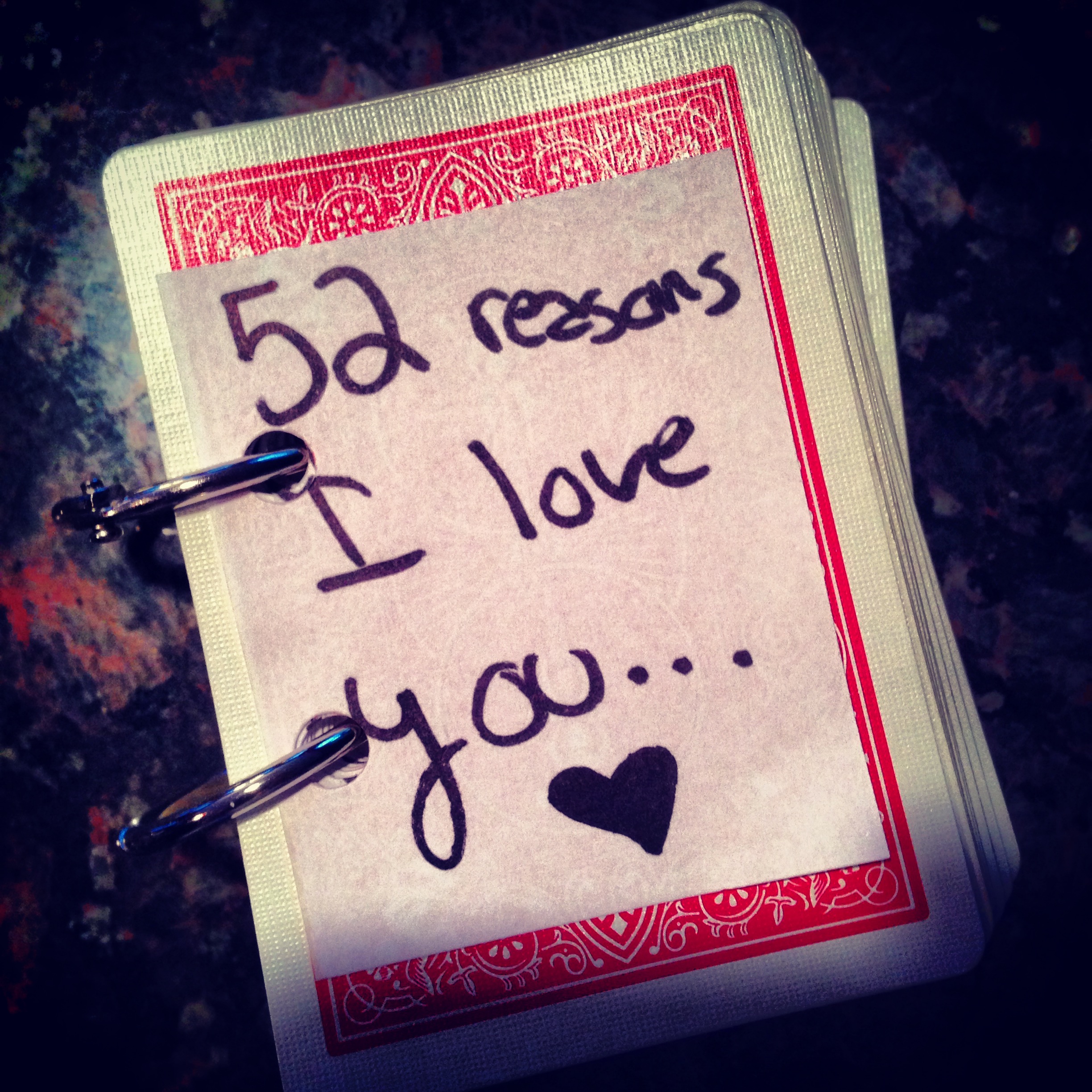 My kids' Valentine's Day cards and candy were waiting for them on the kitchen counter when they came downstairs for breakfast this morning. They were not surprised, especially my daughter who helped me choose which chocolates to buy for her and her brother. I have always given them presents on Valentine's Day. Although I consider it a silly, Hallmark-engineered holiday, it's a good excuse to remind them I love them (see yesterday's post). I did not expect anything in return because I honestly can't remember the last time one of them gave me a Valentine. It was probably a Strawberry Shortcake or Sponge Bob card left over from one of those multipacks parents buy for little kids to distribute to their classmates.
This year, my almost 13-year-old bowled me over with a book called "52 Reasons I Love You," which she made from a deck of playing cards. I was not surprised by the thoughtfulness or creativity behind the gesture. She is a kind, caring person and an excellent gift giver because she truly listens to people and wants to know who they are. What blew me away about the book were the sentiments she expressed.
If you follow this blog, you know that, as most mothers and daughters do, we have our ups and downs in the getting along department (here's a letter I wrote to her about just that). Cards in the book like "You watch 'Pretty Little Liars' to make me happy," "You give amazing fashion advice" and "You always let me borrow your stuff," while they sound trivial, meant something to me because I did not have that kind of relationship as a teenager growing up with a stepmother. My stepmom and I rarely watched TV together. She did not help me decide which shoes or jewelry to wear. She never knowingly let me borrow her clothes, although I did sneak items out of her extensive wardrobe occasionally. My stepmother and I had a cold, distant relationship. There was no communication, trust or support. One of my biggest fears as a parent is that things will be the same for my daughter and me.
The book she made gives me hope. When I read reasons like "I can trust you with anything," "You never let me down," "You never doubt me" and "You always make sure I am happy," I think that maybe, just maybe, I am doing some things right. Maybe, just maybe, our relationship will survive her teenage years, and the two of us will stay close. That would be the greatest gift of all.
There were funny cards in the book too, which is fitting because my daughter is a silly, lighthearted kid. "You scream every time we watch a horror movie" cracked me up because it's true. She and my son argue about who has to face the embarrassment and shame of sitting next to me when we see scary films in the theater. "You taught me to embrace my inner nerd" made me laugh too, but it also made me proud. I want my daughter to be confident of her intelligence, to never play dumb or downplay it. As her mother, and as a woman, that is one of the most important things I can teach her.
There were many cards in the book that described how she views me as a person, not just her mother, and they gave me the impression she might admire, respect and even like me a little. She obviously knows me well: The second to the last card read "You'll probably be crying by now." I was.
The final card said "You're my mom, and you couldn't have done a better job." Well, I have my doubts about that sometimes, but I try to do my best. Apparently, my daughter thinks my best is good enough. Happy Valentine's Day to me.